The panel: Prof Lois Bibbings, Major Dick Beath, Judith Eversley (moderator), Dr Kate Macdonald and Diana Francis.
Bath Quakers hosted a discussion and debate on commemoration of resistance to war on 4 October. The occasion was Quaker Week, and the event was triggered by the disappearance each year of the white poppy wreath laid by Bath Quakers in memory of all those who lost their lives in war at the Bath Cenotaph Armistice memorial.
An accompanying exhibition in the Friends Meeting House showed stories of conscientious objectors and the lives of others affected by resistance to war. Copies of the new book The Conscientious Objector's Wife signed by event organiser Kate Macdonald were on sale. Other panellists included Professor Lois Bibbings from the University of Bristol, the experienced serviceman and former Bath mayoral consort Major Dick Beath, Bradford on Avon Quaker and Bath Stop War stalwart Diana Francis.
Cllr Lin Patterson read Bath & NE Somerset Council's formal policy on war commemoration which was clear inclusive and not celebratory:
our approach to commemoration is focused on recognising the impact of war, and remembering all those who lost their lives
An accompanying exhibition shared a range of conscientious objector stories.
William Heath writes:
How we commemorate war is a lively and important topic, and it's important we broach it locally in a discussion format. The demographic in the room on Thursday was atypical; it was largely full of Quakers (some with their doubts about the peace testimony). The panel was full of pacifists, apart from Major Dick Beath who single-handedly held up the role of conventional counterparty (speaking generally for the military, but sharing an abhorrence of war).
Attendance was reasonable in terms of numbers and the discussion flowed, but it did not have the diametric opposition of views that can flare up on a Saturday morning when angry militarists confront Friends protesting war outside Bath Abbey. The other side didn't show up. And it was hard to focus on and progress the specific point of how we commemorate resistance to war when so many bigger questions are unresolved. For example: is modern war futile; is Britain an inappropriately militaristic society?
Commemoration more broadly is national news with the WWI centenary. The inimitable Danny Boyle, who captured the national mood with the London Olympics opening ceremony, is about to take over beaches for a "Pages on the Sea" event to commemorate lives lost.
In Bath we will meet under our imperial Cenotaph, with its uncomfortable theological message of a distinct crusader sword imposed on an stone cross. Military men will shout and stamp their feet, actions we tend to associate with the starting of wars. We could wish for a softer perhaps truly secular occasion, perhaps in silence, perhaps run by the professions that deal with the aftermath: terminal care nurses or undertakers.
But Friends will be there, participating respectfully by kind invitation of the Royal British Legion and entirely in line with council policy on commemoration.
This time we'll place both red and white poppy wreaths, to commemorate the military and their families and all victims of war in the hope of peaceful resolution to future conflicts. If and when – as seems likely – it's stolen again it will underline there's still a debate to be had about how we commemorate wars. Quakers are ready.
Coming shortly: a unique series of articles by Bath stonemason Laurence Tindall on memorials he has worked on and public reaction to some of his proposals.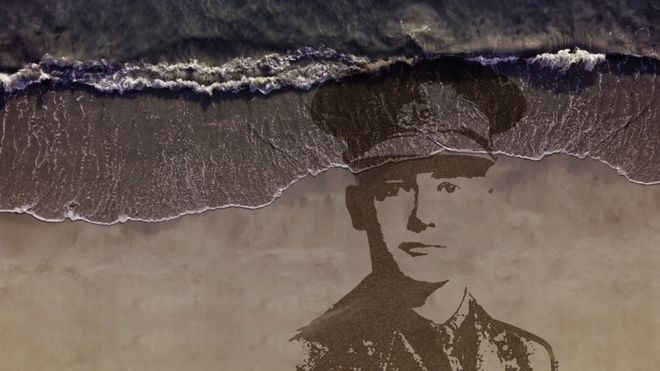 Sand in your eye: artist's impression of a beach taken over for WWI commemoration by Danny Boyle, director of the London Olympics opening event.