Given our commitment to truth, equality, simplicity peace and sustainability Quakers tend to be liberal and progressive. It is perhaps to be expected that there was a mood of tiredness and disappointment at Bath Quakers Meeting for Worship last Sunday after the recent election. But Quakers have never been complacent about the state of the world and, as one Friend put it in Ministry: "We haven't just elected the third Reich."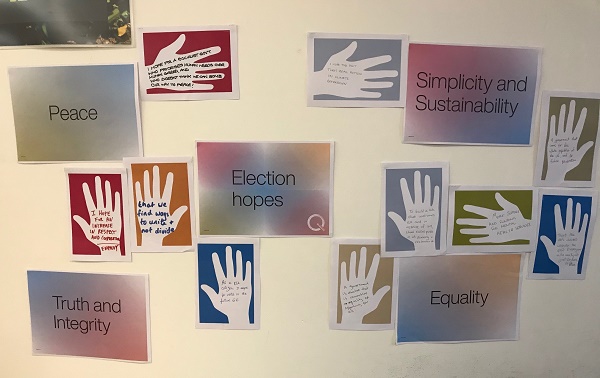 Nationally Quakers work constructively and peacfully with the prevailing government of the day, and Quakers in Britain have responded to the outcome of the general election by challenging the new government to make progress on key priorities (from British Quakers' web site):
A just transition to a net-zero carbon economy. The Conservative party has pledged to take action on climate breakdown. Quakers challenge the government to prioritise this and ensure that the economic transition puts the most marginalised people first.
A culture of welcome. Quakers will continue to oppose the hostile environment and will challenge the government to seize this opportunity to create a humane and fair immigration system.
Transforming justice. Quakers will encourage the Conservative party to focus on its manifesto pledges around prevention and rehabilitation, rather than those around longer sentencing.
Promoting peace. Quakers challenge the new government to promote peace and nonviolence across the UK and abroad.
Quakers want to work with the new government to build a fairer, greener society. They encourage politicians from all parties to come together in the national interest. Quakers are committed to peace. They will continue working towards reconciliation in our deeply divided society.
There a national resource How Quakers do politics here. Follow Quaker engagement with politicians on Twitter via  @PoliticalQuaker.