Richard, a regular visitor to Bath Quakers, attended his local Chelmsford Quaker Meeting last Sunday. He sends an update on the local Stansted15 trial in Chelmsford Crown Court. The group is being prosecuted  under terrorism laws for their non-violent protest against deportation of vulnerable people:
All defendants have now been cross-examined. The case has been suspended.  Next step is for prosecution and defence to summarise/present the legal points of the case.  The judge will sum up and the jury retire.

The defendants have a minibus which was parked in the Friends' small parking lot.  They have been staying with Friends and other supporters throughout the trial.

[A Chelmsford Elder] suggested we uphold the defendants in a Meeting just before the Jury retires which is expected ~ Dec 3rd.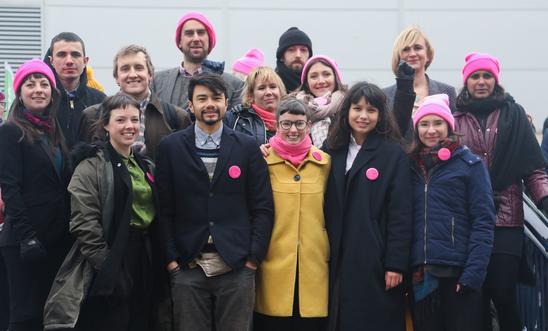 The Stansted 15: photo by Amnesty International. Co-founded by the Quaker Eric Baker, Amnesty is observing the trial and calls them human rights defenders.